Recently we did a KDP free promotion for a book one of our resident authors had published. Generally when we run a free offer, we try to schedule as many promotions as possible so that we can climb as high up the rankings as we can.
For this promotion though, we wanted to test how effective Freebooksy was by itself, and to do that, we JUST used Freebooksy's promotions, and no other groups at all.
Before we go into the specifics, we'll start with the basics about Freebooksy: As a site dedicated exclusively to free books, Freebooksy has developed a solid reputation among both self and traditionally published authors.
Their pricing for standard books ranges from $40 for smaller categories with perhaps 30,000 subscribers (such as Children's Books) up to $100 for their biggest categories (Mystery/Thriller/Romance etc).
They also have a very large Facebook page, with over a quarter of a million fans, and any promotion you do with Freebooksy will get shared on their Facebook page as well as with the email subscribers of that genre.
Though they approve most submissions, they're popular enough with authors that you often have to book at least a week ahead to be sure of getting the date you want, and sometimes even longer than that if you're looking to promote a book in one of the larger categories.
Check out the video below, and if you want to try them out, you can submit your book to Freebooksy HERE.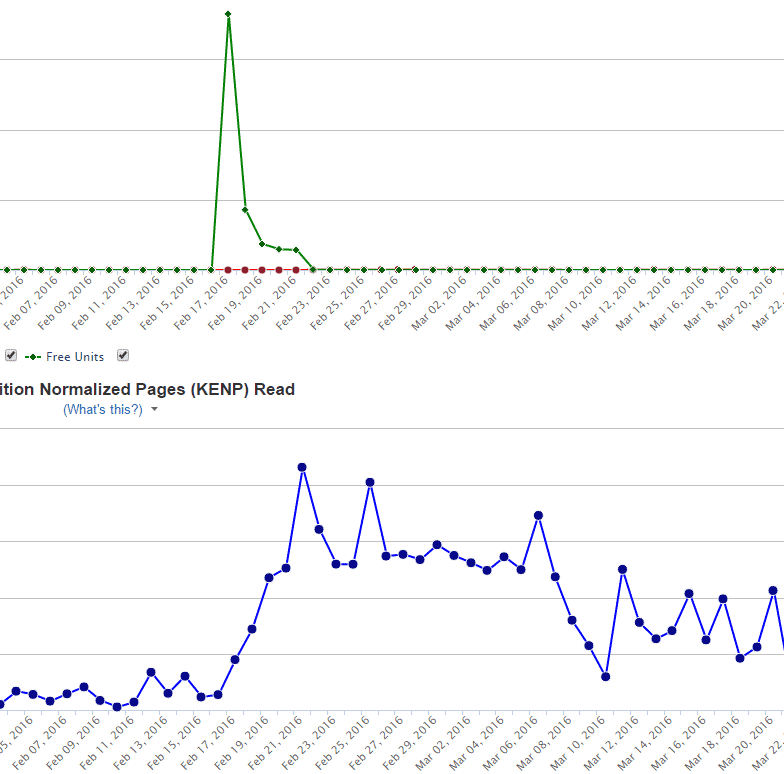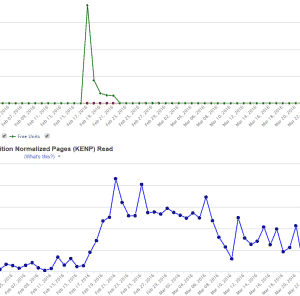 So what were the results? Well, as it explains in the video, the month leading up to the promotion we were selling perhaps 2 copies of this book a day, with about 1,000 KENP pages per day being read through Kindle Unlimited.
During the 5 days of the promotion, we had about 5,400 free copies downloaded, and for the month subsequent to that, there was only a minor increase in the number of books sold (from 2 per day, to about 3 per day).
But the big surprise was that the Kindle Unlimited pages read went WAY up! From approximately 25,000 pages being read in the month leading up to the promotion, our sales skyrocketed to 185,000 for the month after the promotion! At the current rate that Amazon pays per page read through Kindle Unlimited (just under half a cent) the additional 160,000 pages read translates to about $768 in additional royalties for that month.
Even after the cost of the promotion ($95 after using our promo code) we generated another $673 in royalties for a book that had been out for several years, plus we had an increase in sales of other books by that author.
It seems completely counter-intuitive, but paying money to give away more copies of your book CAN be an effective business decision for an author. Obviously a few things are required for it to be a success of course:
You'll need your cover to look good. People are willing to take a chance and try out a free book by an author they've never heard of, but they aren't going to bother if the book's cover doesn't look professional and eye catching. There are literally thousands of free books available on Amazon at any given point in time, so your book needs to look great to stand out from the crowd.
It's usually best to wait until you have a few reviews before you run a major promotion. You don't need to have hundreds, but if there isn't at least a couple reviews there, then new people are less likely to give you a chance.
The longer your book is, the more chance you have to make a good return from the Kindle Unlimited pages read. If your book is 14 pages about why cabbages are healthy, then you'll need a whole lot more people reading it after the promotion to show a good return than you will if it's a mighty 400 page mystery novel.
In our experience, the day of the week that your promote your free book doesn't make much difference, EXCEPT when it coincides with a major public holiday. On holidays, people tend to spend time with their families, or at other social gatherings, so their less likely to be online and checking their email for discounted Kindle books.
For ourselves, we were very satisfied with the results of this promotion, and will continue to use Freebooksy for our promotions in future. . although we'll usually sync them up with other ebook promotion sites to try and push higher up the rankings.