Book Kitty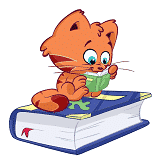 is a joint project between several  Facebook pages. They promote Kindle books exclusively (no no iTunes, or Nook  unfortunately).
They're one of the cheapest promoters around however, and for just $5 they'll share your book cover, link, and synopsis simultaneously on several Facebook pages, including I Love My Ereader, I Like Books, I Love Reading, Love Books, and of course The Book Kitty.
If your book is romance or erotica, (and you can afford the extra $5!) you can also have your story shared with the 17,000 fans on the Sexy Stories Facebook page.
We went for the basic promotion, and we chose to promote a book that we'd made free for 5 days using Kindle Direct Publishing.
Over the 5 day period, we had a total of 431 downloads, which works out costing us about 1 cent per download (since we only spent $5 on the promo). Since the author we promoted has several other books, giving away 431 copies of one of her books usually results in significant extra sales in the other books, as well as usually increasing the number of reviews on the free book.
Overall, 431 isn't a number of downloads that's suddenly going to make you world famous of course, so generally we'd recommend synchronizing your promotion up with several other book marketing groups. That will allow you to get even more downloads and push you higher in the ranks. (You can find our full List Of Book Marketing Sites Here)
For $5, Book Kitty is one of the best book marketing Fiverr gigs that you're likely to find. Check out the video below for more info.
If you mention Coupon Code PAIDAUTHOR when you book a gig, Book Kitty will post your book twice on the same day, once in the morning, and again in the evening, so that you get even wider exposure.
You can submit your book to Book Kitty Here.