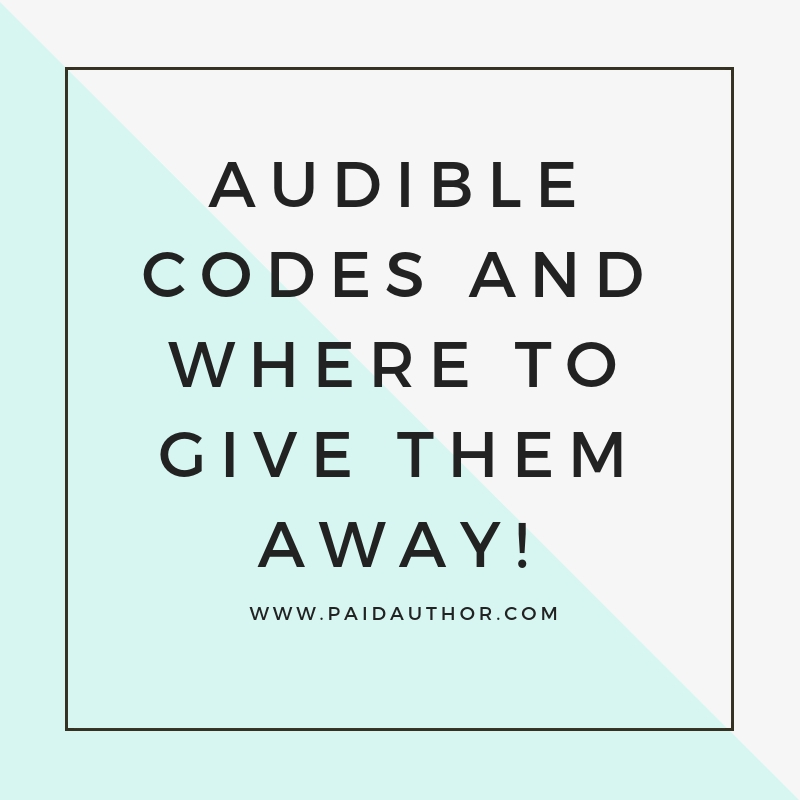 Last month I made my first concerted effort to use up ALL of my ACX coupon codes for one of the authors I represent. She usually sells about 300 audio books a month, with her record being 400 in a month with a BookBub deal for the ebook, which helped boost the sales of the audiobook as well.
Last month we had just over 1,700 audiobooks downloaded, and about 1,100 of them were from ACX codes, which translates to about $6,000 in extra royalties above normal. You'll note that that leaves 600 other sales, which is above our record for this author. I attribute this mainly to the audio books jumping higher in the ranks, and some new fans checking out the author's other audio books after trying one with a code.
You can watch the video of what we tried, or scroll further down for more details.
Now a few details before we get into what worked and what didn't:
1. Obviously you don't get 1,100 codes for each book. This author has been around for a while and has about 10 novels in audio, PLUS a couple boxed sets that contain the same books (and for which you get another 100 US and UK codes, just as you would with a new book.
2.

She's in romance/erotica
, which (based on the fact that Audible has a dedicated romance package) is very likely one of the biggest genres for audio at the moment.
3.

About 85% of the books we gave away were for the .com codes rather than the .co.uk version.
That's almost certainly a function of the different population sizes between the US and the UK, coupled with the fact that a lot of non-US countries use the .com version of Audible as well.
4.

We actually gave out closer to 1,500 codes.
Not all have been claimed yet, and a certain percentage of the ones unclaimed may not be. It's my intention to leave it a couple of months, and then reissue any that didn't get claimed.
So, here are the things we tried!
1. We posted on the author's fan page simply with a photo of the audiobook cover for one of the books, and asked if anyone in Audible would like a free copy. SUPER effective, and not only will your fans appreciate it, they'll most likely give you glowing audio reviews, since you know they already like your books. We did this for 4 books, each a week apart, and gave away about 50 books each time,.


2.
We submitte
d our book and coupon codes to to KBookPromotions (You can get a 5% discount using code PAIDAUTHOR). KBookPromotions is an easy way to get your book into the hands of readers, and they also have one of the highest percentages of reviewers per code you give out, so if you're struggling for reviews, they might be just what you're looking for.  
3.
We also used
Audiobookboom
, which is a very solid site that lets you submit your codes to potential listeners. They send out an email once a week listing the audiobooks available, and over the next few days you'll get a spreadsheet with emails of people who have requested a code for your audiobook. They also need to list their reviewer page, so if you find someone who seems to hate your genre, you can save the code for someone who might be a better fit. I never bothered however, and just gave out codes like confetti
?
We used it 4 times in the month for about 150 downloads in total.
4.
Another e
ffective method I found was to post in groups focused on genre-specific audiobooks. Romance groups focusing on audio aren't to difficult to find, and I did the same for the various other genres my authors write in. About 60% of the books under my banner are romance though, so that's what I focused on for this month.
Facebook Groups that currently allow authors to post coupon codes to giveaway:
All Genres:
Romance/Erotica:
(If you find any more, please let us know on the Paidauthor.com Facebook page!)
When you're giving out codes, it USED to be that you'd find someone interested and then send them a PM (Private Message) with the code. Previously this was required because codes could be used for ANY book, and if you just posted the code in the comments a single person could scroll through and claim every code you posted if they were fast enough. Now however, codes are linked to a specific books, so that particular risk isn't there anymore.
The problem with this was two-fold:
Firstly, Facebook would often ban you if you sent out a huge number of private messages to people who weren't your friends yet. I most certainly would have been banned sending out over 1,000 in a single month.
The second problem with this method was that when you message someone who isn't a friend, your message ends up in the "filtered" section of your FB messenger . . and even if you tell people in the comments "I've sent you a PM! Check your filtered messages!" at least half of them never get the message. I'd even be willing to bet a lot of people here haven't seen the filtered messages section on their Fb messenger. I know that when I first checked it I had messages from YEARS before that I'd never noticed!
Here is an example of one of the posts that worked best for us.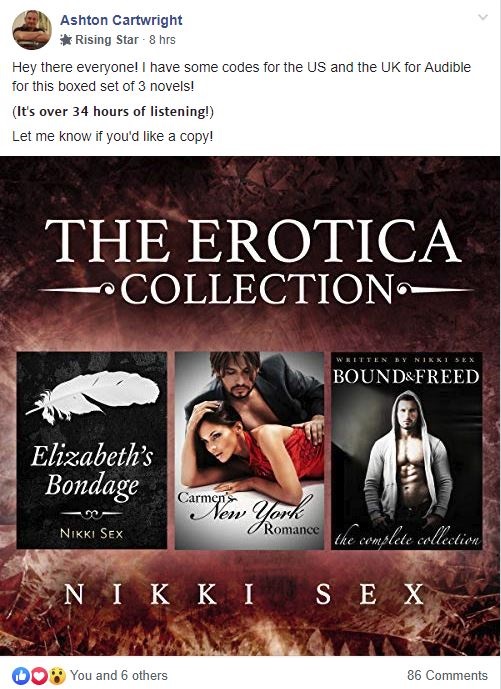 So, now I do it like this:
First, message an admin of the group you think would be a good fit, and ask them if it's okay if you give some codes out. Sometimes they'll say no, sometimes it's fine but only on particular days, and sometimes they'll say go for it! It's INSANELY good interaction, so most admins don't mind all that much. It's not uncommon to get over 200 comments when I post a code giveaway in an active group.
I've tried posting book trailers and such, but my best results by FAR are just posting the audio cover image, and I say "Hi guys! I've got some Audible codes for the US and the UK for *bookname*! Let me know if you'd like one!"
And that's it. For each person who says "Me please! US/UK code!" I reply to their comment with "XXXXXXX is your code! You can claim it here: audible .com/acx-promo
?
" (I have that phrase on a template with the US and UK links versions so that I can give them the correct one).
It seems fiddly, but it's honesty only a few moments work to get a potential new fan, AND you get your royalty from the sale like usual. Pretty awesome.
Now ACX will only give you 25 codes for each of the US and UK regions to start, and you need to use 10 codes up before you get your next 25. But this is cumulative. Once you've given out 20 codes, you can get codes 26-75 in one go. Once you've given out 30 codes, you can get all the remaining codes up to 100.
If you're lucky, (and if you've found the right group that's big enough and matches your genre) you'll give out more than 25 codes when you post. Unfortunately, ACX takes a couple days to update what codes are used, so you might have some people waiting up to 48 hours for their code. So far I haven't had a single person object or complain regarding this.
If your books are part of a series, or if you're planning on releasing more in the series, it's definitely okay to ask people if they'd like to join your VIP Audible Review team to get the new books the day they come out. All you REALLY need is 100 people in the US and another 100 in the UK to join a team like that and you won't have to worry about the other options in the future
?
This is particularly useful when people either message you or comment on your post that they loved the book/narrator/characters or whatever.
If they're commenting on a post, and they've said that they want to be part of the team, get them to message YOU to join. (That stops you getting lost in the filtered messages by you messaging them!). Add their name and country to a spreadsheet, and (if you have multiple genres, or, like me, multiple authors) the series or author they want to get the new releases from.
Anyway, so that's what worked for this particular author, and what I've started doing with all of them after this trial run proved sufficiently effective for me
?