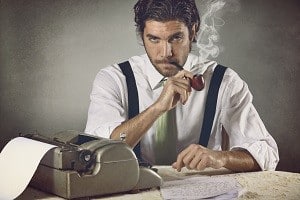 Ah, the eternal dream of the amateur writer. Imagine if you could spend your days working in your pajamas, whilst writing about exciting topics that gets your pulse racing. Unfortunately, for most writers, this is a dream they will never realize because they don't want to put the work in and they don't see the realities of being a success within this industry.
We're going to introduce you to the five things you need to know to make a full-time living from your craft, focusing on just ONE possible avenue of income: which is freelance writing.
1. You Need to Be a Good Writer
It goes without saying your writing skills must be better than those of the rest of the population. Nobody is going to pay you to complete a piece of writing if you can do no better than someone else could have done. If you're starting from a low point, think about how you're going to improve. Be willing to invest in getting better through both trial and error as well as active study.
It's natural for writers and authors to swing between thinking their writing is flawless, and thinking their writing is terrible. The truth is that no matter who you are, or what level you're at, you're probably great at something and less great at other things. This means that there is always something to work on and improve. Progress, not perfection, should be your goal.
2. Brand Yourself
Whether you're writing books for Kindle, or an article for a newspaper, or creating content as a freelance contractor, you should focus on not just being a writer; you need to be a brand.
Your name is a brand, and when someone wants a freelance writer, or a book they know they'll enjoy, they should think about your brand. These days, the best freelance writers are opening up companies to carry their brand. They're not marketing their individual names. It's because a company is easier to brand than someone's name. There's nothing special in a name like John Smith, after all.
Particularly for things like copy writing through websites like Dotwriter or iWriter, having an established reputation makes all the difference in terms of getting the highest paying jobs, and recurring work.
3. Most Freelance Writing is Marketing
Writing a novel is Freelance writing won't take up a lot of your time. This is what the client sees, but it doesn't make up the bulk of your business. The majority of your day will be taken up by marketing. This could involve marketing through social media or marketing through your website.
If you're incapable of marketing yourself, you'll never turn this into a full-time job. Clients can't find you if you don't know how to market yourself. Only the top 1% of writers can spend all their days writing because people spread their names around naturally. Ignore the 1%. You're in the 99%, for now.
4. Efficiency is All About Research
Freelance writers aren't always able to spend a whole day on a single article. It's not cost-effective for them. Instead, they'll take on bigger projects, whilst spending less time on each piece. Most of your efficiency will come from your ability to research quickly.
In time, this becomes a mechanical issue. You know what to type into Google and what search results to ignore. Writers who have worked within the industry for a few years can complete research for an article in ten minutes or less, and their clients don't notice the difference.
5. This is a Long Game
There's no easy way to make a full-time income from writing. It's not like a normal job where you're going to waltz in and enjoy a considerable salary. Freelance writing, like any freelance industry, is about dealing with the natural spikes and troughs. Sometimes you won't have a chance of finding work, whereas on other occasions you'll have too much to handle.
No, this is something you're going to have to stick with. The vast majority of writers spend years trying to figure out their magic formula. There's no way to avoid it. You must be in this for the long haul.
Conclusion – A Full-Time Income
A full-time income works differently for each person. Freelance writers will have cycles of feast and famine. By full-time income, we mean enough to live on entirely through writing. Clever writers save any surplus money to keep afloat during the difficult times.
Money management is as important as writing. Remember, this is a business like any other. Cash flow is everything, and particularly at the start, things might not go as smoothly as you'd planned. But keep writing, keep improving, keep getting more and more satisfied customers, and things will just get easier and easier.
Few skills as in as high demand as talented writing, and few career paths offer the chance to make your living just as easily sitting on your laptop at the beach, or having a coffee in a café. It's a great life, and one that's worth working towards.